Women's Football in the Bahamas has continued to grow and seeking to improve its presence in the CONCACAF region, and to this end the Bahamas Football Association has acquired the services of Soraya Toppin-Herbert as Director of Women's Football.
A native of Barbados, Soraya Toppin-Herbert has excelled in sports and academics from a young age.  She started playing soccer since the age of 6.  She graduated from Purdue University after playing four years of Division 1 football, with Bachelors of Science Degree in Movement and Sports Science with a minor in Law and Society with highest distinction.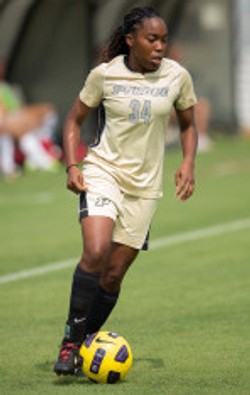 While at Purdue she was a two-time Big Ten Conference Distinguished Scholar and a three-time Academic All -Big Ten awardee.  Following Purdue, Soraya attended the University of Central Florida where she earned her Master of Business Administration and Master in Sports Business Management Degrees.  Soraya is also a graduate of the FIFA CIES Football Executive Program.
Miss Toppin-Herbert brings a wealth of experience to our program in the Bahamas, including being the founder of Raya34 Sports Inc., her non-profit based in Barbados, which blends sports and education for the development of young people. Their premier program is the More than Boots Girls Football Program which was launched in October 2020.
Passionate about football in general, and Women's football in particular, the Bahamas Football Association is excited to introduce Miss Toppin-Herbert to our program in the Bahamas.
We are extremely happy to have Soraya on board at this time of our development in women's football.  She is organized, intelligent and has laid out a plan to take our Women's Football, both grass and sand, to higher heights and we are certain our female players from grassroots to Women's will benefit from her experiences."

Carl Lynch Deputy General Secretary