Nassau, Bahamas – The Bahamas Football Association (BFA) has heralded a new chapter in its journey towards football excellence with the successful conclusion of the Executive Mentorship Program (EMP) held August 12th-13th, at the Breezes Resort.
This two-day workshop, meticulously curated and steered by Howard McIntosh, Head of One Concacaf & Caribbean Projects, and Anton Sealey, Concacaf Instructor, was not just an event but a transformative experience for all attendees. The sessions, rich in content and depth, addressed the multifaceted challenges and opportunities of modern football governance.
Anya James, the newly elected female president of the BFA, was an active participant and advocate of the program. Reflecting on the workshop, she remarked, "The EMP was an enlightening journey. It provided us with a comprehensive understanding of the intricacies of football administration. As we chart the future course for the BFA, the insights and knowledge gained here will be our guiding light."
The curriculum, inspired by the "One Concacaf" vision, delved into a plethora of topics, from strategic planning and crisis management to the nuanced roles and responsibilities of executive committees. The aim was to equip leaders with the tools, knowledge, and vision to navigate the complexities of football administration in the modern era.
In attendance were Council Members Daria Adderley, Dion Peterson, John Joseph, Gavin Christie, and Frankie Edmond as well as Jurelle Mullings- Sports Management Consultant, Bruce Swan- Technical Director, Carl Lynch- Deputy General Secretary, and Fred Lunn- General Secretary.
President James highlighted the program's significance in shaping the future of football in the region, "Our collaboration with Concacaf is a testament to our shared vision and commitment. The EMP is a stepping stone, and with the knowledge and tools acquired, I'm confident that Bahamian football will soar to new heights."
For more details about the event visit https://www.concacaf.com
For more information contact:
BFA Secretariat
Office – 322 4343
Website: www.bahamasfa.net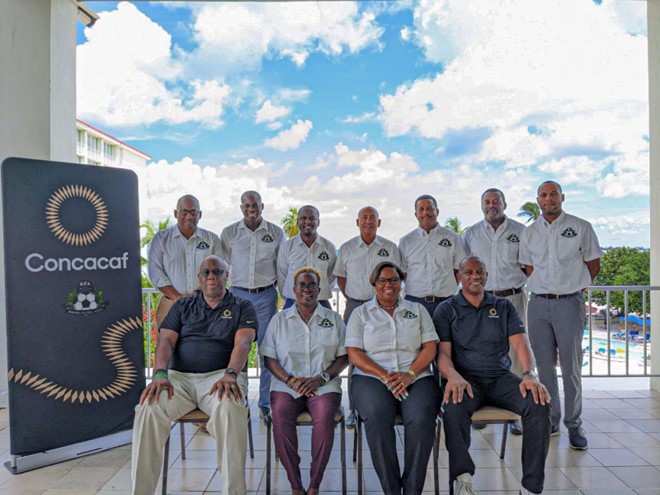 ###
About The Bahamas Football Association
The Bahamas Football Association (BFA) is the official governing body for the sport of Association football in The Bahamas, established in 1967 and headquartered in New Providence. As a full member of FIFA since 1968, the BFA oversees Bahamian football at every level, from international competitions to professional and amateur leagues. In addition to managing the Men's and Women's National teams, the BFA also oversees youth organizations, the BFA Senior League, and the national beach soccer teams, demonstrating a commitment to promoting and advancing football in The Bahamas at all levels of play.