KRYSTAL Evans, following in the footsteps of Grand Bahamian Vanette Laing, is the latest Bahamian to serve as an International Federation of Association Football (FIBA) official and she's loving it. Since 2019, Evans has been the only Bahamian to be included on FIFA's list of officials, serving as a FIFA Assistant Referee, a position that operates from the sidelines.
Laing, who formally served as the first Bahamian official, was a FIFA Referee, which enabled her to control the game from the middle of the field. Although she's not there yet, Evans said she's striving to reach that in the near future. "I always wanted to be on the national team and eventually play in the Olympics," said Evans, one of the country's talented versatile athletes. "I never really thought about becoming an official of any sport until I actually started doing it.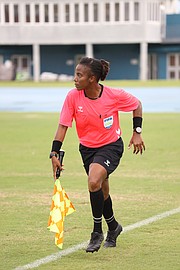 "It wasn't something that I was inspired to do, but now that I'm in it, I enjoy it and I like it, despite the constant criticism that referees encounter. It offers a lot of opportunities, once you discipline yourself and get the proper training." Evans, who got started in officiating through the insistence of her then boyfriend, now husband, Meko Evans, said at present she's ranked at the tier two level, but she aspires to move up to tier one where she can officiate at the Olympics and the World Cup.
"It's a tedious job because you have to remain healthy and fit," she said. "One of the main things you have to avoid in being an official is sickness because you never know when they will call you to go and officiate somewhere and you can't tell them that you can't go because you are ill." Although it's not a full-time job, Evans, a mother of one to her daughter, Emeka Evans, said she enjoys the peaks that come along with it.
She's been given airfare and accommodations with a per diem in every tournament she has attended so far, including World Cup Qualifiers and Championships for Under-17 and Women's Divisions. But it's not a job that she can give up her full time commitment as a physical education teacher at Gerald Cash Primary School because she still has a lifestyle to maintain. Having officiated at a number of international events, including the Women's Elite Referee Course last year, Evans said she just wants to see how far she can go in the sport.
"If I can make it to the Olympics, that would be fine for me," she said. "But it requires a lot of discipline and time. It's a lot of work, but if you can put in the effort, you can make it to that level." However, she has withdrawn from participating in any team sport at this time because she has to avoid getting any injuries. She also encourages more Bahamians to get involved in officiating because it's a rewarding job outside of playing the game.