Nassau, Bahamas – In a bid to champion the cause of women's football and to promote the sport at the grassroots level, the Bahamas Football Association (BFA) recently wrapped up its invigorating Girls Beach Soccer Camp. The camp, an intrinsic part of the FIFA Girls Football Campaign, drew an impressive average attendance of 30 budding female athletes each day.
Held at the scenic Beach Soccer Stadium, the camp became a vibrant ground for these young aspirants to not only develop their soccer skills but also bond over shared experiences, stories, and aspirations. The ocean's rhythm combined with the melody of laughter and the thumping soccer balls painted a picture of joy, dedication, and passion.
Under the expert guidance of seasoned coaches, the young participants received insights into the intricacies of beach soccer. Through dedicated training sessions, interactive drills, and real-time match situations, the girls showcased commendable progress, reflecting the effectiveness of the camp and the potential future stars of Bahamian football.
Adding to the atmosphere was a series of snapshots capturing the essence of the camp: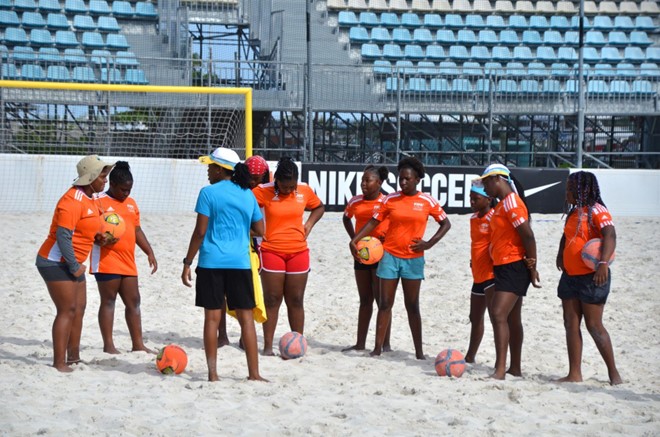 It's evident that such initiatives by the BFA, backed by global campaigns like that of FIFA, are instrumental in shaping the future of women's football in the Bahamas. The association recognizes and appreciates the enthusiasm of participants, the dedication of coaches, and the unwavering support of the staff who together crafted this success story.
Given the camp's palpable impact, there's a hopeful buzz in the air. One thing is certain: the future of women's football in the Bahamas is as bright as the sun that shone down on the BFA Girls Beach Soccer Camp.
For more details about the event visit https://www.concacaf.com
For more information contact:
Bruce Swan
BFA Technical Director
Office – 322 4343
Email: Bruce.Swan@bahamasfa.net
Website: www.bahamasfa.net
###
About The Bahamas Football Association
The Bahamas Football Association (BFA) is the official governing body for the sport of Association football in The Bahamas, established in 1967 and headquartered in New Providence. As a full member of FIFA since 1968, the BFA oversees Bahamian football at every level, from international competitions to professional and amateur leagues. In addition to managing the Men's and Women's National teams, the BFA also oversees youth organizations, the BFA Senior League, and the national beach soccer teams, demonstrating a commitment to promoting and advancing football in The Bahamas at all levels of play.