Nassau,Bahamas – The Bahamas Football Association has announced a 23-player roster for the women's national soccer team ahead of their Road to Concacaf W Gold Cup qualifying campaign.
The team, led by head coach Ricqea Bain, will be competing in Group D against Grenada and US Virgin Islands in the Road to the 2024 Concacaf W Gold Cup. Their first match will be at home against Grenada on September 20th at 7:00pm at the Thomas A. Robinson Stadium in Nassau.
Mid-fielder Karen Wert & Jodie Clark are expected to provide veteran leadership, while young talents like forward Diane Mallis and defender Edissa Bain midfielder represent the emerging youth on the squad.
In a statement, coach Bain expressed optimism about the team's chances: "I believe this talented and dedicated group of players has what it takes to qualify for the 2024 W. Gold Cup and represent The Bahamas on the international stage."
The women's team will have a quick turnaround after their opener versus Grenada. They'll travel away to face their opponents again just four days later on September 24th.
The team is eager to compete in front of their home crowd to kick off the campaign: Player Rachel Rolle said, "We can't wait to play in front of our fellow Bahamians and feel their support as we work to make the country proud."
This team exemplifies the power of women supporting women. Their camaraderie, skill and determination show that when women unite, women win. We hope fans will come out and cheer on these empowered athletes as they strive to qualify for the 2024 Concacaf W Gold Cup.
The team is coming off a 3-1 friendly match victory and 1-1 draw over Turks and Caicos on September 14th and 15th respectively at the Roscow A.L. Davies Soccer Field before kicking off their World Cup qualifying campaign this Wednesday.
The full 233-player roster is as follows:
| | | | |
| --- | --- | --- | --- |
| Brianna Capron | Defender | Valtinique Simmons | Forward |
| Edissa Bain | Defender | Kyrah Miller | Forward |
| Tyra Mckenzie | Defender | Janeka Edey | Midfield |
| Jada Thelamour | Defender | Hadassah Knowles | Midfield |
| Dalexis Huyler | Defender | Giselle Laing | Midfield |
| Angel Williams | Defender | Jodei Clarke | Midfield |
| Samina Moss | Forward | Karen Wert | Midfield |
| Liah Rae Tucker | Forward | Rachel Rolle | Midfield |
| Demitra Mcclure | Forward | Raynia Russell | Goalkeeper |
| Diane Maillis | Forward | Melina Mcclure | Goalkeeper |
| Kaitlyn Rolle | Goalkeeper | Megan Wood | Defender |
| Taleah Thompson | Defender | | |
The team has been training in Nassau from June through September ahead of their first qualifier match on September 20th, 2023.
For more details about the event visit https://www.concacaf.com/concacaf-w-gold-cup/
Caption: 2023 Bahamas National Women's Soccer Team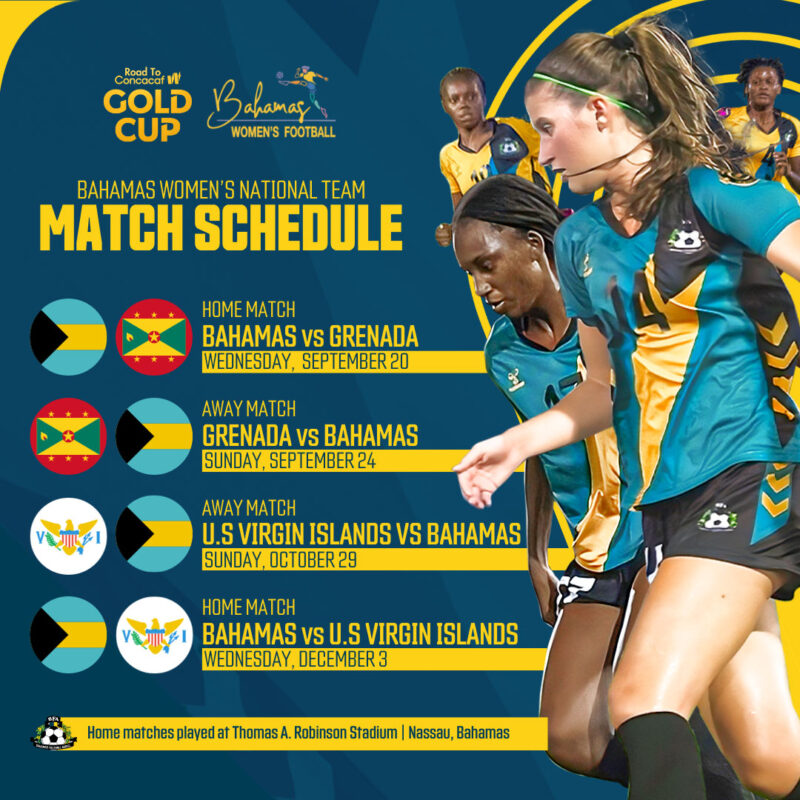 About The Bahamas Football Association                
The Bahamas Football Association (BFA) is the official governing body for the sport of Association football in The Bahamas, established in 1967 and headquartered in New Providence. As a full member of FIFA since 1968, the BFA oversees Bahamian football at every level, from international competitions to professional and amateur leagues. In addition to managing the Men's and Women's National teams, the BFA also oversees youth organizations, the BFA Senior League, and the national beach soccer teams, demonstrating a commitment to promoting and advancing football in The Bahamas at all levels of play.