Nassau, Bahamas – The Bahamas Football Association (BFA) held an informative training session on Saturday, August 26th to introduce local clubs to the FIFA Connect registration system. The training was led by BFA Deputy General Secretary Carl Lynch and Technical Director Bruce Swan.
FIFA Connect is a new cloud-based platform that will modernize and simplify the player registration process. Beginning with the 2023-24 season, all players, coaches and officials in Bahamian football must be registered through the Connect system.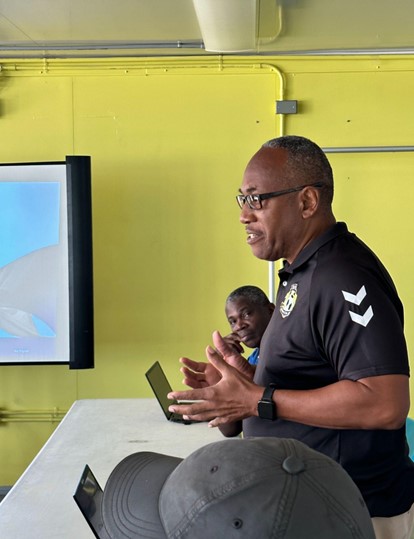 During the training, Lynch and Swan provided club administrators and technical directors with an overview of FIFA Connect and its benefits, including:
Streamlined player registration with unique FIFA IDs
Digitized player profiles accessible by clubs and leagues
Enhanced data insights for informed recruiting and scouting
Simplified transfer/loan admin and approval workflows
"The transition to FIFA Connect represents an exciting step forward for football development in The Bahamas," said Lynch. "By moving registration and admin to this innovative new platform, we will unlock new possibilities for efficiency, transparency and growth."
The BFA will continue providing guidance and support to clubs as the launch of mandatory FIFA Connect registration approaches. Club feedback from the training was overwhelmingly positive, with many administrators eager to start leveraging the system's capabilities.
"The Connect platform brings us in line with FIFA's vision for modernizing football globally," Swan added. "We are confident this will enable stronger club structures and elevated professional standards across Bahamian football."
To learn more about FIFA Connect, visit: https://www.fifa.com/football-development/fifa-connect#
For more information contact:
BFA Secretariat
Office – 322 4343
Website: www.bahamasfa.net
About The Bahamas Football Association               
The Bahamas Football Association (BFA) is the official governing body for the sport of Association football in The Bahamas, established in 1967 and headquartered in New Providence. As a full member of FIFA since 1968, the BFA oversees Bahamian football at every level, from international competitions to professional and amateur leagues. In addition to managing the Men's and Women's National teams, the BFA also oversees youth organizations, the BFA Senior League, and the national beach soccer teams, demonstrating a commitment to promoting and advancing football in The Bahamas at all levels of play.