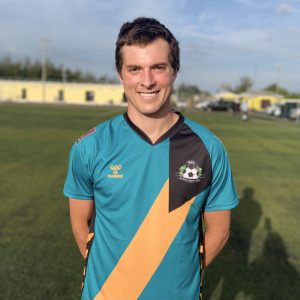 "No One Owes You Anything."
Dylan Pritchard debuted with the men's national team in 2015. Dylan as a kid declared that "Soccer is my game". At a young age he was inspired by his dad to work hard, they spent many night practicing shot after shot. His most memorable moments were playing soccer at Boston College for 4 years.
In his senior year they made it to the Elite Eight. This experience helped him to become the player he is today. Dylan's favorite soccer player and role model is David Beckham.
FIFA World Cup Qatar 2022 Qualifiers Group F
| Season | Club | Goals | Assists | Yellow Cards | Red Cards | Appearances | Win Ratio | Draw Ratio | Loss Ratio | Own Goals |
| --- | --- | --- | --- | --- | --- | --- | --- | --- | --- | --- |
| FIFA World Cup Qatar 2022 Qualifiers Group F | Bahamas | 0 | 0 | 0 | 0 | 3 | 0.00 | 50.00 | 50.00 | 0 |