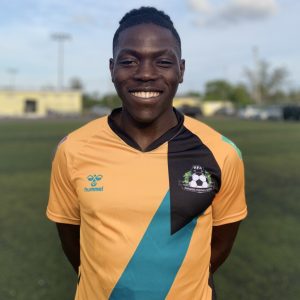 Success To A Man Is Not A Destination. It Is A Journey To Improve Everyday."
Marcel Joseph grew up playing soccer with the older boy from his village. He credits his skills to playing soccer with them at BFM church grounds. Marcel made his men's national team debut in 2018.His most memorable moment representing the Bahamas thus far was him scoring his first goal.
This was momentous because his mom was in attendance, this was her second time ever watching him play. Marcel success was journey and not a destination he recalls being cut from the U17 World Cup Qualifier squad, That moment changed everything for him. Marcel willpower has awarded him 9 appearances with men's national team.
FIFA World Cup Qatar 2022 Qualifiers Group F
| Season | Club | Goals | Assists | Yellow Cards | Red Cards | Appearances | Win Ratio | Draw Ratio | Loss Ratio | Own Goals |
| --- | --- | --- | --- | --- | --- | --- | --- | --- | --- | --- |
| FIFA World Cup Qatar 2022 Qualifiers Group F | Bahamas | 0 | 0 | 1 | 0 | 3 | 0.00 | 50.00 | 50.00 | 0 |